At most scientific conferences, sponsors from the industry will financially support the conference in exchange for the opportunity to exhibit during the event. Unlike what I thought when I was a first-year grad student attending my first national conference, exhibitors are not there for the sole purpose of supplying free pens, sticky notes, and candy. On the contrary, scientists can benefit greatly from the chance to have face-time with company representatives—but learning what they can offer and how to make the most of your interaction is often trial by fire for early career researchers, especially those attending their first conference as the sole representative of their lab. Here are some tips to make the experience beneficial, both for you and your research group.
Before you go
Find out the names of companies from which your lab commonly orders reagents or equipment. Discuss with your PI and other lab members if there are any products that they are having problems with, searching for replacements for, or thinking about ordering. It helps to write down this information so that you aren't forced to remember it along with all of the other information that will get thrown at you from conference talks!
Sometimes, companies will send an email if they will be attending a particular meeting. If they offer to schedule meetings throughout the conference, take advantage of this if it is a company you need to interface with. If not, you can note their booth number and the times/locations of any workshops they may be offering.
Throughout this process, don't get overwhelmed! The bigger the conference, the more exhibitors that are likely to be in attendance. Luckily, these conferences also tend to be long enough to give attendees enough time to take advantage of both the exhibits and the conference sessions. Just like you should prioritize the talks you want to hear, you should concurrently prioritize the exhibitors you want to see, and balance your days to fit in both.
At the meeting
On the first day of the conference, look at a map of the conference center and a map of the exhibition hall. Because you'll be alternating time between scientific sessions and visiting the exhibitors, it may make sense to literally map out your days. Find which exhibitors are on the side of the hall nearest to talks you are planning to attend so you can maximize your time talking to the reps instead of traversing the conference center multiple times a day.
When you visit an exhibitor's booth, don't be shy! If asked, you should agree to let them scan your conference badge or otherwise take down your contact information. And if you are having this conversation on behalf of another member of your lab, you might mention the name and contact information of the other lab member so that they, instead of you, can be contacted by the company. Either way, be sure to point out what university/research center you are coming from, as there may be a representative at the booth who covers your locale. If that is the case, you should ask to speak to that individual. (If not, your contact information will likely be passed along to your local rep by the company after the meeting.)
You've prepared questions for the representative, so now is your chance to discuss the specific products (whether disposable reagents or equipment) that you planned for. If your questions become too technical for a sales rep, ask if there is someone from their R&D department in attendance. Often there is, but that person is attending scientific talks instead of remaining at the booth all day. Instead, they may return to the booth for a specified block of time, when you should return to get your questions answered.
You can also prompt the reps to tell you if there are any newly released or forthcoming projects related to your area of research interest. In addition to picking up information on those products that interest you or your lab, ask outright if there are any deals that you can use to purchase them for your laboratory, or—even better—a sample of the product! Most of the time, the rep will offer these to you if they think you are a serious customer, but not always, so it is best to be upfront and ask.
Once you have discussed the aforementioned topics, you can also take advantage of any games or freebies offered at the booth! Doing this after having had an in-depth conversation with the representative presents a more positive expression of your reasoning for taking up their time amid a swarm of scientists—and sometimes has the added benefit of getting you more coveted giveaways! Last year, I was able to snag a free lab coat after discussing a technical problem with an R&D rep at a conference.
Afterward
Expect a flood of emails in the few weeks following the conference as companies follow up with everyone who stopped by their booth. If you or your lab are interested in maintaining a relationship with a particular company, it is good practice to follow up on their emails. Anything from a simple "thank you" to asking additional questions that have arisen since the conference continues to build your rapport with the company, should you need their products or assistance again in the future. This can also be a prime opportunity to discuss small-scale collaborations that can be mutually beneficial to your research and the company's interests—for example, asking to test a new product in exchange for sharing a review or data with the company.
And don't forget to use your discounts! Most coupon codes that companies provide at conferences last until the end of the calendar year they were offered (or the next calendar year if you attend a winter meeting), but some only last 1-2 months. Since most products will last much longer than the coupon code is valid for, it often makes sense to purchase stocks of some items with the coupon codes and store them in the lab, instead of paying a higher price later on.
In conclusion
Attending a national meeting can be overwhelming, and that is most apparent when looking at the exhibition floor. Using the tips mentioned above will help any scientist navigate the sea of exhibitors and reap the most benefit from the wonderful opportunity these conferences provide to interface directly with companies.
---
Quartzy is the world's No. 1 lab management platform. We help scientists easily organize orders, manage inventory, and save money. We're free and always will be. Visit Quartzy.com or reach out at info@quartzy.com.
Interested in writing for The Q? Send us an email!
Share this: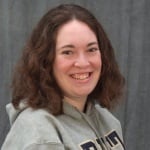 Aliyah W.
Aliyah is a science communicator with a PhD in immunology, currently based in Boston. You can find her on Twitter @desabsurdites and on her blog at www.aliyahweinstein.com.