Pipetting is a crucial technique for any molecular biologist to master. Handheld pipettes were first introduced in the late 1950s and in 1972, the Gilson pipette was developed. To this day, Gilson is a leader in pipetting expertise. This Guide to Pipetting will get you up to speed on best pipetting practices, including how to select a pipette and tips, pipetting techniques, and how to avoid contamination while pipetting.
Selecting a Pipette

There are two common types of pipettes available from Gilson: the air-displacement pipette and the positive-displacement pipette. The air-displacement pipette is commonly found in most labs, and its recommended use is general laboratory work or handling aqueous samples. If you pipette materials that are viscous, volatile, corrosive, or radioactive, you should instead select a positive displacement pipette. The difference between an air-displacement pipette and a positive displacement pipette is how the piston expels your sample from the pipette tip. In an air-displacement pipette, the piston pushes against air, which in turn pushes the liquid from the tip. In a positive displacement pipette, the piston is in direct contact with the sample. Positive displacement pipettes, such as Gilson's MICROMAN® E, reduces variability in pipetting viscous or dense liquids such as Glycerol (Figure 1). Air-displacement pipettes can pipette volumes as small as 0.2 microlitres or volumes as large as 10 mL, while positive displacement pipettes can pipette liquids ranging from 1 microlitre to 1 mL in volume.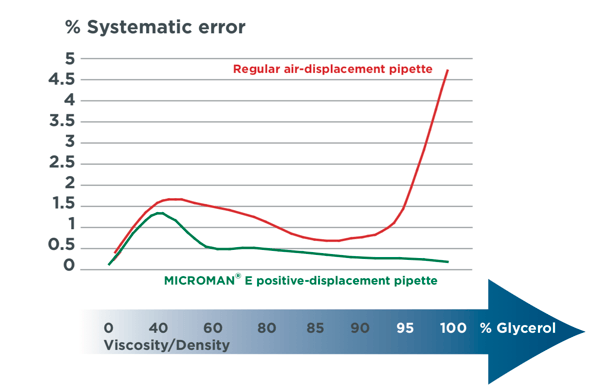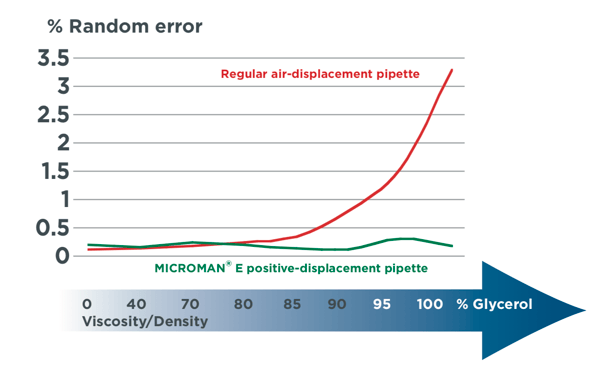 Figure 1. Systematic error (top) and random error (bottom) of Gilson's MICROMANⓇ E positive-displacement pipette compared to another brand's pipette shows the variability that many pipettes have in accurately transferring viscous liquids.
Other specialty pipettes available from Gilson include air-displacement multichannel pipettes, for ease of pipetting 8 or 12 different samples into a microplate, and motorized pipettes, which use a digital display and a motor, instead of manually setting the volume and pipetting, to reduce variability between scientists.
Selecting Pipette Tips
As important as selecting the right pipette for your experiment is, selecting the right tips is also a crucial decision. PIPETMAN® Tips from Gilson are available in a variety of packaging options. The first is autoclavable tips, which are the most flexible option. They are an eco-friendly option, as the racks can be refilled and repeatedly autoclaved. Next, are sterilized filter tips, designed for working with aerosols or RNA, as the filter prevents any materials from entering and contaminating the pipette. These tips come in boxes that are individually wrapped and sterilized. Gilson pipette tips are sterilized by radiation. For positive displacement pipettes, the entire piston is changeable, and Gilson offers plastic capillary pistons specially designed for its MICROMAN® line.
Pipetting Techniques
Once you have selected the right pipette and pipette tips for your experiment, the next factor in ensuring high quality results is technique. Here are 5 tips to ensure pipetting accuracy:
Adjust the volume properly. One trick is to hold the pipette horizontally when setting the volume, making it easier to see when the numbers line up with the indicator.


Finish setting the volume with a clockwise turn. When decreasing the volume, be sure not to pass the target number. When increasing the volume, pass the required value by ⅓ of a turn, and then slowly decrease to reach the target number.


Pre-wet your pipette tip. Make sure that all your samples contact the same surface inside the pipette tip by aspirating liquid into the pipette and then dispensing it back into the sample or a waste bin before pipetting your first experimental sample.


Immerse your pipette tip to the correct depth. The ideal volume to immerse your pipette tip into the liquid is based on the volume that you will be aspirating (Figure 2). This impacts the air pressure, which is a factor in accurately pipetting with an air displacement pipette.
Figure 2. Ideal immersion depth for a pipette tip is dependent upon the volume that will be aspirated.


Ensure that no liquid is on the outside of the pipette tip. If necessary, wipe the outside of the pipette tip or capillary with a clean, lint-free, inert medical wipe do not touch the orifice.
Gilson's Guide to Pipetting offers more details on the most accurate way to pipette based on the specific type of pipette and properties of the liquid you are working with.
Avoiding Contamination
Even with the best technique, pipettes can be a source of contamination in any experiment. Luckily, there are several ways that this contamination can be avoided or resolved. Pipettes should be stored vertically on a stand when not in use, so they do not come in contact with any contaminants in a drawer or on the bench. Pipettes should also be held vertically when in use so that the sample in the pipette tip does not enter the body of the pipette.
If your pipette is contaminated, it can be decontaminated using a method specific to the type of contamination that has occurred. For example, contamination with biologic materials, including DNA and RNA, can be cleared by immersing the pipette in 10% sodium hypochlorite for at least 15 minutes followed by exposure to UV light for 30-60 minutes. Contamination with radioactive compounds, organic solvents, or proteins can be resolved by immersing the pipette into an ultrasonic bath with an appropriate detergent or cleaning solution. Pipettes may also be autoclaved for general sterilization purposes. Gilson pipettes come with a User's Guide that will help you determine how to appropriately clean your specific pipette.
Your choice of tips also affects the purity of your experiment. Using a filter tip reduces the risk of contaminating the body of the pipette, as the filter blocks any of your sample from entering the body of the pipette. Using a sterilized tip reduces the risk of the pipette tip contaminating your sample. You should always change the pipette tip from sample to sample, because even after ejecting your sample, some residual liquid may remain inside the tip.
Service
If an unexpected problem arises with your pipette, Gilson's service and support teams are there for you. Gilson's technicians are able to repair pipettes on-site or at their center. Gilson uses manufacturer parts and proprietary software to accurately service your pipette, and all repairs come with a 90-day warranty. Or, to prevent the need for costly repairs, Gilson offers preventative maintenance on all of its pipettes. This increases the lifespan of a pipette and reduces unanticipated downtime that comes with a malfunctioning pipette.
With these pipetting best practices, you'll be able to avoid pipetting errors and contamination, allowing you to perfect your next experiment! Learn more helpful tips and tricks in Gilson's full Guide to Pipetting.
Try Gilson's PIPETMAN® today & get 30% off your pipette!

PROMO CODE: 30OFFPIPETMAN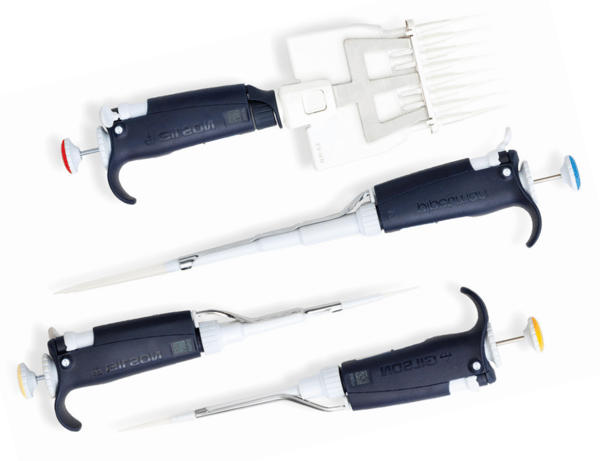 *Limit to one use per lab group. Promo code must be redeemed by admin at checkout. Please see our Promo Code FAQ for using promo codes with all payment methods. Promotion expires October 31st, 2019.
Share this: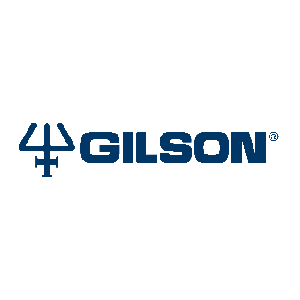 Gilson Sponsored