The Request feature has always been a major part of what makes Quartzy so useful for streamlining lab supply ordering, and it's why we regularly keep an eye out for ways to improve it. But because of its central place in the workflows of most users, any changes we make require careful consideration.
That's why we've spent the last several months working with many of you to understand the entire spectrum of use cases and workflows associated with submitting requests to ensure any new features we introduced would improve your lab management experience and not get in the way of it.
What improvements are coming to Quartzy
Across the next few weeks, we'll be rolling out a new feature we're calling
Quick Lookup
to the
Add Request
process in Quartzy. Once Quick Lookup goes live, whenever you or your lab members go to submit a new supply request, you'll be greeted with a simplified request form that only asks for two things:
Vendor Name
, and
Catalog Number
.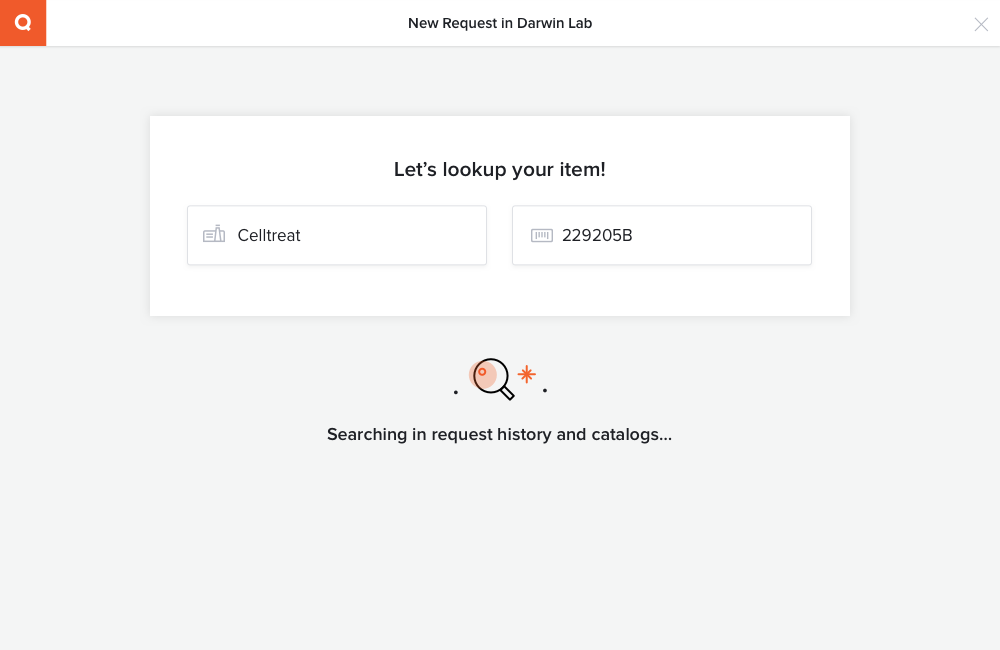 Quick Lookup represents a big shift from the lengthy request forms you're used to filling out, and should significantly reduce the amount of time required to submit a request. In addition to quickly adding requests, you'll also have simultaneous visibility into your order history and offers from the
Quartzy Shop
in one place. With Quick Lookup, you'll be able to ensure greater request accuracy as well as have access to all the information you need for making more informed ordering decisions.
Why are we making these improvements?
What became evident over the course of our user interviews were the number of concerns about the lengthy process of adding requests. In particular, many users found themselves performing an excessive amount of copy and pasting to complete all the open fields of the request form.
This created a frustrating barrier for many who simply wanted to request the items they needed quickly. While it has always been possible to filter through past request histories or Inventory to re-request an item in a few clicks, many users enjoyed the convenience of submitting a fresh request and just wanted a more streamlined way to do that.
Through our testing, we recognized that the majority of users knew what they wanted when they came to the request form, and information like
vendor name
and
catalog number
were always close at hand. With Quick Lookup, we developed a way to combine this information with a lab's past order data to automatically generate the rest of the information required for a request, dramatically reducing the work to submit requests.
Additionally, the recent launch of the Quartzy Shop presented another area for improvement. Because of the shop, users can now enjoy the convenience of having direct access to the supplies their lab needs on one platform, but many of them brought to our attention how they were finding themselves jumping between the Shop and their request history to figure out if they wanted to go with a particular offer. We incorporated this feedback into the design of Quick Lookup so that now, whenever a user goes to add a new request, they'll also have visibility into relevant matches from the Shop in addition to
their
request history.
Collectively, the capabilities Quick Lookup brings to the
Add Request
experience will make submitting a new request faster than ever before.
Looking to the future
From a technical and design perspective, not only does Quick Lookup improve the
Add Request
process, it give us greater flexibility to streamline the process even further in the future. While we will always carefully consider any improvements to Quartzy and how they impact your experience, this update opens up a lot of exciting possibilities that we will explore together to create the best possible solution for managing your lab.
---
Quartzy is the world's No. 1 lab management platform. We help scientists easily organize orders, manage inventory, and save money. We're free and always will be. Visit Quartzy.com or reach out at info@quartzy.com.
Interested in writing for The Q? Send us an email!
Share this: