The holiday season can be challenging for scientists if the timing of experiments prevents you from taking the time off you wish that you could. This holiday season, I challenge you to reframe your mindset, so that even when things aren't going your way in the lab, you remember that there are always things to be grateful for as a scientist.
When experiments suddenly stop working or the delivery of a reagent is delayed, it's easy to catch yourself thinking about the tedium of day to day life in the lab. It can be even more challenging during the holiday season, when an experiment could prevent you from traveling home for as many days as you'd wish: scheduling experiments around the holidays, holiday parties, and vacations in November and December can be challenging, and whether your plans include busier days leading up to a break or spending more days in lab and giving yourself a shorter break, it can be easy to see the entire situation as stressful. Appreciating the little things that make your life in the lab easier can help keep your spirits high in a season that can otherwise take a toll on scientists. To start you off, here are five things you can be grateful for in the lab.
Clean and organized lab benches

. If, like me, you are notoriously messy, cleaning your bench can be a holiday gift to yourself that gets you off to a strong start after the holidays.

The piece of equipment you need to use finally being available at a convenient time of day. There are some advantages to being in the lab when others are on vacation!

Refrigerators and freezers that are still running. There's little worse than getting a call from security that you need to come in and rescue your samples – especially during a break.

When the person who used the last of the buffer prepares a new stock. Spread cheer to your labmates this season (and always) – if you finish a reagent, take a few minutes to replenish it so that the next person is not caught by an unpleasant surprise!

And best of all…when your experiment finally works!
And here are five things that all scientists can be thankful for any time.
Coffee! To power you through those long days leading up to the break.

Free food after a department seminar – or even better, department holiday parties, whose leftovers last for several days following!

Discounts on laboratory purchases

. A sale, a free reagent, or a prize giveaway can be a boost both to laboratory budgets and morale.

Positive feedback from reviewer #2. Finishing paper revisions any time is a huge accomplishment, but getting it done before the end of the year has a certain extra feeling of relief to it.

Time away from the lab to visit with family and friends.
As Thanksgiving arrives to usher in the holiday season, keeping in mind the small things to look out and be thankful for while in the lab towards the end of the year.
Share this:
Tags: advice, work relationships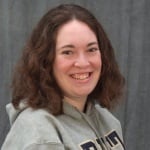 Aliyah W.
Aliyah is a postdoc at the University of Virginia, where she studies cancer immunology. She is also an advocate for science communication. You can find her on Twitter @desabsurdites and on her blog at www.aliyahweinstein.com.
Related Articles