Social distancing has undoubtedly changed the world around us. Sure, life is slowly resuming. But can things ever return to a pre-COVID normal in the workplace? As shelter-in-place orders are lifting around the country, offices and research labs are cautiously reopening their doors; work life, however, may look very different than it previously did.
After recently connecting with several labs and hearing about their new safety precautions, similarities in these changes are emerging.
Staggered Shifts
The days of standard 8-5 working hours may be gone, for now at least. Staggering shifts will make distancing in the lab easier by freeing up more space. Xerion Advanced Battery Corp, based in Ohio, recently moved to a 2-shift structure in their R&D lab.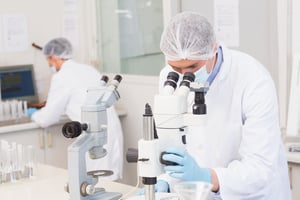 "Each shift is 6 hours long and allows for the first group (up to 10 people) to work from 7am-1pm, followed by the second group working 1pm-7pm," explains Research Scientist Dr. Aaron Blake, Ph.D. at Xerion. The last 30 minutes of each shift is spent sanitizing the work space used. Since following the 6-foot distance guidelines is crucial for Xerion, no more than two people are allowed in each lab at a time. Distancing standards are required in the office as well. Blake says, "after the six hour shift, we return home to work our remaining hours completing data processing, emails, and reporting."
Many labs are staggering lunch times as well. Setting up one hour lunch shifts can allow for time in between to sanitize tables, chairs microwaves and other equipment. For parents with younger children, there may be a bonus benefit in a staggered schedule. They may be able to limit social exposure by avoiding the typical high traffic daycare drop-off rush.
Keeping Distance
All the labs I connected with are adhering to social distancing practices at work. Emily Casey is a Lab Manager at Second Genome in the San Francisco area. "We are currently maintaining a three-person limit in the main lab and one-person limit in the vivarium," Emily shared. Twice a week, She is able to float around the office to complete necessary miscellaneous tasks. "Everyone respects the 6-foot distance and masks are required in the lab at all times."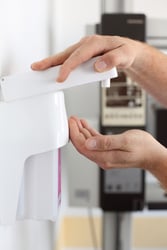 It's not uncommon to see desks spaced apart in newly configured workspaces and lots of sanitizer available in high-touch locations. Quartzy continues to get high numbers of requests and purchases for disinfectants and antibacterial soaps. These should be used as needed to ensure cleanliness of hands, PPE, lab and office equipment and anything else used frequently. Shared lab coats should be cleaned after each use.
Many offices are limiting the number of people who can use an elevator at once and even banning non-essential visitors in the workplace altogether. Others are capping meetings to ten people or less or requiring meetings to be held virtually (something most of us are quite familiar with at this point).
Communication and Automation
Staggering shifts means that heightened communication is a must during this time. Simple errors in the lab may take longer to resolve and create devastating setbacks. AxoSim is a small, New Orleans based biotech company. Due to their location, the company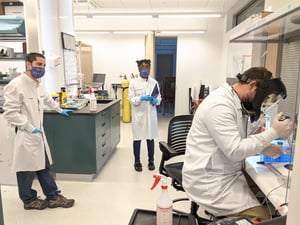 understands the importance of having a contingency plan. "Having this knowledge has helped us prepare for the pandemic by increasing safety measures," Adam Julien, Operations Associate, told me. He went on to say, "While COVID-19 has been difficult for everyone, it has been a great opportunity to work together as a team to create more efficient processes and a safer work environment for all of us. We are also grateful to Quartzy for maintaining their commitment to working diligently these past weeks to monitor and replenish our inventory."
Creating an efficient and centralized communication plan and automating workflows will ensure lab supplies are readily available, miscommunications are reduced, and projects move forward during this chaotic time. Using Quartzy's automated workflow allows everyone in the lab (no matter what shift they have) to request essential supplies, track an order status, and easily find items using the Inventory locations. Users can even message one another right from the platform!
After implementing more streamlined and efficient processes, AxoSim has even been able to start new projects and deliver great results, all while maintaining updated safety guidelines.
We are all navigating a new kind of normal that will undoubtedly continue evolving. Protecting employees in the lab isn't solely about creating a safer work environment, it's about protecting families when employees go home at night. It's a group effort on everyone's part to keep COVID-19 at bay and labs moving forward with critical research in a safe manner.
Subscribe to the Quartzy blog to stay current on best practices in the lab during COVID-19 and beyond.
For more information, check out the CDC Interim Guidance for Laboratories.