At Quartzy, we're continuously inspired by the incredible work of our customers who are leading research to detect and eliminate lethal cancers, develop COVID-19 tests, and create a sugar substitute that tricks your tongue into tasting sweetness to name just a few. Before Quartzy, researchers were spending a lot of time managing requisitions, tracking inventory, and waiting for shipments to arrive. Lab Managers were the heroes who wore multiple hats (or should we say capes?) in attempt to deal with this disorganization. Between spreadsheets and whiteboards, they were only able to do so much. That's why we built Quartzy - to help Lab Managers return all this wasted time to Scientists - to accelerate scientific discovery.
We're thankful that our customers have given us the chance to help - over 100K users from more than 7K organizations currently use Quartzy to manage their labs! Now we have the enviable task of taking on the next set of challenges for lab managers and scientists. In my brief time at Quartzy (I started in May 2021), I've already met with half a dozen customers, and I'm so grateful for each one sharing their perspective. They've applauded us for features they love, shared constructive criticism where we can do better, and pitched great ideas for how we can make their lives easier. As product leaders at Quartzy, our aim is to take all this input, and figure out where to go next.
With that said, we're excited to publish our Product Roadmap to the public for the very first time. While we can't do everything at once, we have a lot of ambitious goals, and we look forward to working on them with you.
Below, I'll highlight a couple of product areas that we're really excited about.
Integrations
As in virtually every profession, lab managers and scientists have a lot of software tools at their disposal (we use a truly stunning number of SaaS products here at Quartzy). We realize we're not the only window on your screen, and we want to help you organize that mess. After all, our goal isn't for you to spend more time in Quartzy, our goal is for you spend more time on your research.
With that in mind, we've elevated Integrations to its own, critical focus area for our product roadmap. And we have a number of initiatives planned, with specific tools as well as webhooks and an open API that you can build on top of!
Today, we want to highlight our Slack integration, which will be coming very soon. Too many emails? We get it. (You can make those less frequent in your profile settings, btw). Connect Quartzy to Slack and get notifications when your requests are ordered, and when those orders ship.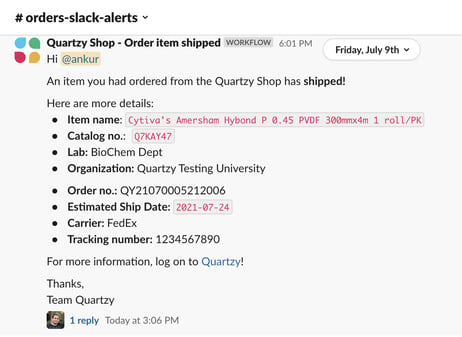 Approval Workflows
Previously, we introduced the ability for lab managers to set a cost threshold for their lab - requests under that amount are automatically approved; requests over that amount are sent to the lab manager for approval. We kept it simple, and a lot of labs have set it up and use it.
But we know that a lot of labs either have or want to have more complex workflows. Whether you're sending requests for hazardous items to a safety manager, or routing based on project codes, our goal is to help you automate that process.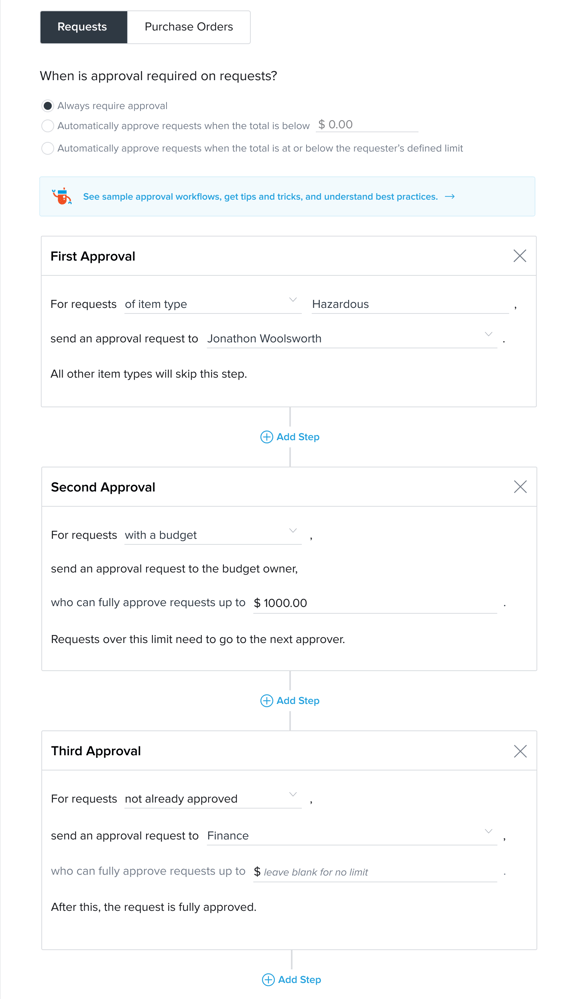 Get in touch
Whether you want to work with us on product design, request early access to an upcoming feature, or just have a question - we'd love to hear from you!