On April 13, 2021 we gathered a few of the best and brightest in the industry to talk about the current challenges surrounding the supply chain. You can watch the full webinar recording here, where both suppliers and end users discussed the ongoing disruptions and how they're dealing with the constant changes. It's no surprise that our attendees were all feeling the disruptions COVID-19 has caused.
Here's what they said when we asked "What has been your biggest struggle with the supply chain since the start of the pandemic?":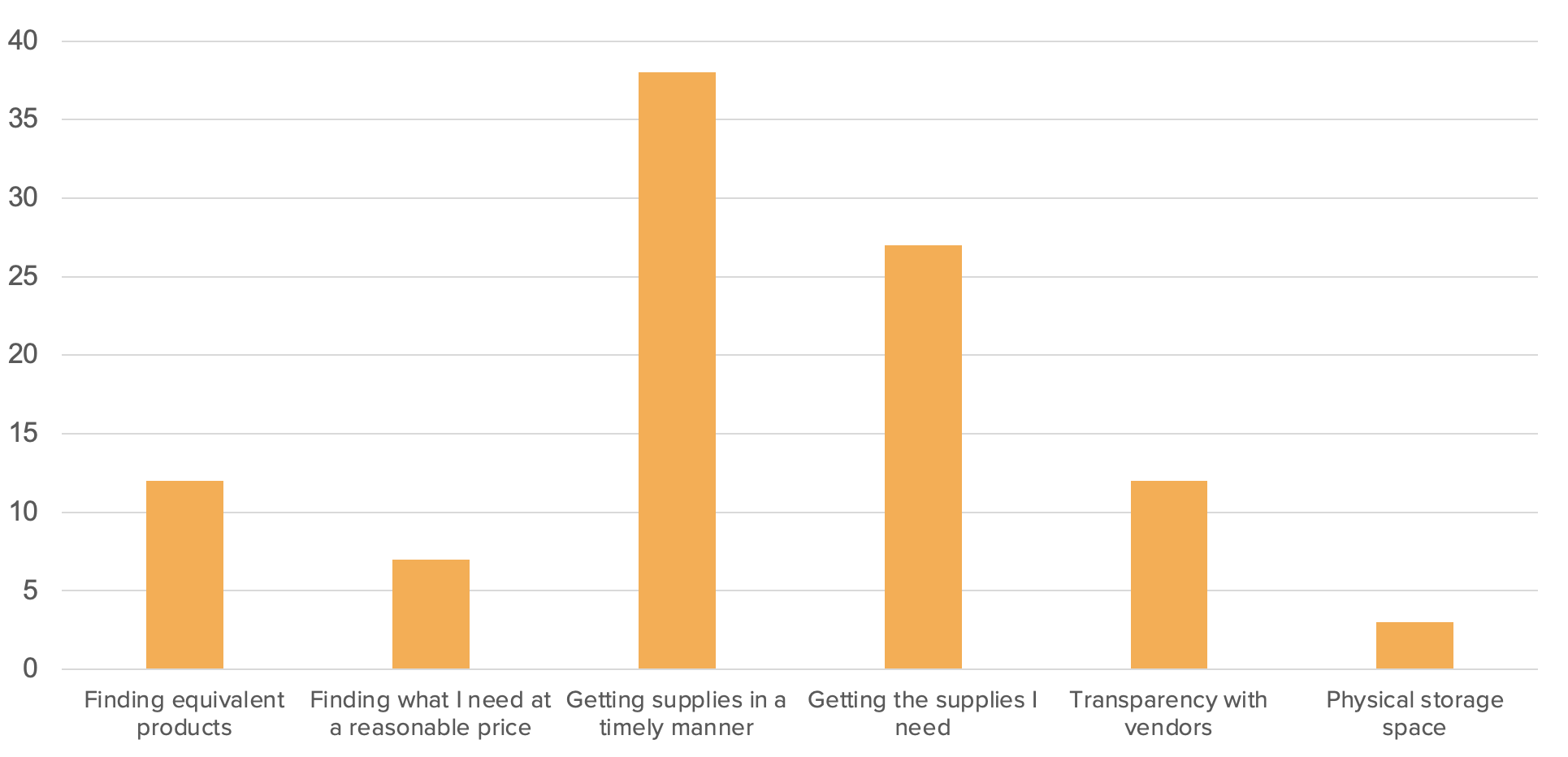 Sound familiar?
Tons of questions flooded in during the webinar and we weren't able to get to all of them, so we made a promise to our attendees that we would round them up in a blog post! Special thanks to our panelists for giving even more of their time to our attendees to help answer these important questions.
First, some introductions as to who is answering the questions below:
Adam Regelmann: Co-Founder and COO of Quartzy
Jill Peluso: Head of Global Customer Supply Chain Innovation & Development, Millipore Sigma
Rich Happel: President, CELLTREAT
Jamie Haviland: Lab Manager, Amagma Therapeutics

Q: How are you all dealing with price hikes especially when it comes to PPE, like gloves that are marked up by some cases 200%?
Adam Regelmann: At Quartzy we experience these hikes too, translating into higher costs. As you heard in the webinar discussion, even the manufacturers are experiencing increases in the cost of their raw materials. We do everything we can to absorb them and prevent passing them on to the customer, but in some cases it's unfortunately inevitable.
Jamie Haviland: Keep looking! By checking every few days I've been able to find in stock 100 count glove boxes for around $10 per 100 count box from the Quartzy shop and from other vendors. Personally I think even $20 per 100 count box is too expensive and I've seen listings as high as $65 per 100 count box recently. Even within the same brand of glove some gloves have been price gouged and some have not. Listings, pricing, and availabilities seem to change daily, so keep scrolling through options on vendor sites and you should be able to avoid paying gouged prices. Make sure to compare price per glove and not price per box when comparing between options.
Q: For cell culture plates, PCR tubes, and other lab plastics, is manufacturing capacity there and raw material short or is it only increased demand causing delays?
Rich Happel: Multiple factors are causing the shortage. Manufacturing has been limited due to the workforce's time lost from both direct and indirect COVID contact. This reduction in manufacturing capacity has occurred at the same time that demand for the products has greatly increased over historical levels. In addition, the raw materials and overall supply chains have also been disrupted by extensive port delays and storm impact. These factors are causing more limitations on manufacturing. Companies are working hard on a recovery, but these factors will delay and extend the time needed to recover.
Q: When we have another pandemic/huge disruption in the supply chain, what are you all doing to prepare yourself in the future? In terms of where you get supplies, manufacturing, storage etc…
Jill Peluso: With the potential for another pandemic/huge disruption, our core principles for keeping employees safe, positively contribute to public health and to ensure business continuity will remain the focus. For supply continuity, we have learned to ensure:
A fast establishment of a centralized task force to address all aspects of supply

Minimal disruption in supply by identifying replacements for backordered products, implementing redundant inventory in our distribution centers and reviewing warehouse strategies to accommodate for locally enforced measures.

Close contact with our suppliers to review open purchase orders and assess safety stock levels. We are increasing stock of products sourced and activating our validated secondary suppliers in accordance with our quality procedures where necessary.

Our production site heads have further scenario planning protocols prepared with specific response measures for the continued dynamic environment.

As regions and industries across the globe are impacted, our dedicated import and export teams continue monitoring all available trade lanes to optimize transportation
Rich Happel: Increased manufacturing capacity and importantly having available capacity to respond are what is needed. Approved secondary sources of raw materials and production capability at multiple locations will be important. Companies will have a more resilient manufacturing and supply chains as a result.
Adam Regelmann: I highly recommend checking out our piece "Strategies any lab can take to overcome supply chain shortages". The supply chain is obviously out of our control, but what you can control are things like diversifying your suppliers, identifying your essential products, being proactive about your supply needs, and of course utilizing Quartzy to manage it all.
Q: In terms of the private sector, our lab has seen the drastic decrease in availability in consumables starting in February (most specifically pipette tips). This more recent spike in supply is most concerning as we are a year out from the start of the pandemic. What triggered this most recent spike in lack of availability?
Rich Happel: Once again, manufacturing has been limited due to COVID's impact on the manufacturing workforce. This reduction in manufacturing capacity has occurred at the same time that demand for the products has greatly increased. In addition, the raw materials and overall supply chains have also been disrupted by extensive port delays and storm impact of raw materials. These factors are also causing more limitations on manufacturing.
Q: When an order gets marked as backordered, what can Quartzy do to actually give us an option to switch to another similar product (with a warning for price change), but with a lower lead time?
Adam Regelmann:
Short term: You can always reach out to us (email support@quartzy.com, or call 855-QUARTZY) and we will move heaven and earth to get you something you can use to avoid a research disruption.
Longer term: We're attacking this problem in two ways:
W

orking with our suppliers to get real time availability information.

Also note, a

vailability information for anything stocked in our warehouse is reflected real-time in Quartzy. You can identify these products by following the instructions

here

, and the delivery estimates on those items are extremely accurate.

We have a database full of matches we've made over the years. In a few months, we'll be releasing a change that will surface these options when you mark ANY product on Quartzy as backordered. We are also actively researching new approaches such as notifying you when an item you're about to request might be on backorder because other users have market it as such.
Q: What advice do you have for smaller companies to be able to find the supplies we need in a timely manner?
Jamie Haviland: I don't think there's anything to do to speed up a backorder. If you have trouble with specific items then keep more of those items in stock in your lab going forward so you can better weather lead times. It is worth following up with vendor customer service about your orders. Twice now I've called a vendor to check on a backordered item only to learn there was availability and my order had been "stuck for some reason". If an ETA or backorder looks off to you then call and ask about the lead time, you might get lucky.
Q: How can laboratories prepare when suppliers "under-promise" and "over-deliver" for products with a limited shelf-life? For instance, sometimes products marked as backordered until a later date arrive unexpectedly early, and then end up expiring before they can be used because the lab prepared their schedule based on the backorder date.
Jamie Haviland: I think the vendor and customer need to work together to fix this. The vendor needs to accommodate the customer's schedule, the customer needs to call the vendor and explain their timing considerations. Since items are arriving too early for the customer I am hopeful that communication can fix the issue.
Adam Regelmann: I recommend working with the vendor to see if the supplier has anything implemented where they allow "release dates" from customers, or ask for a confirmation before shipment occurs to confirm it's okay to send.
Q: Where is the demand coming from? If academic labs have slowed considerably due to working from home, is this all driven by larger biotech/pharma? Are vendors generally prioritizing larger companies with reoccurring orders? How can a smaller company get supplies on time with all these demand?
Rich Happel: Overall demand has increased due to COVID testing and increased vaccine development. At the same time, manufacturing limitations have reduced the overall supply of products. It is recommended to order in advance of when supplies are needed and being open to alternatives from other manufacturers. At CELLTREAT, we often improve on delivery dates and reserve inventory of high demand products for small orders.
Any additional questions you want answered? Tweet @Quartzy or sent us an email support@quartzy.com. We'll be happy to answer!