Whether you are a scientist at a food technology company working on a new innovative sweetener based on proteins or a member of a lab building cutting-edge COVID-19 testing solutions, Quartzy has your back. We acknowledge that, as a scientist, your research work is of the highest priority and when it comes to purchasing newer lab supplies, we should help you make informative yet quick ordering decisions. Over the last few months, we have been incorporating your feedback into providing a streamlined, user-friendly experience, and we are pleased to announce the new Product Pages in Quartzy!!
In the past, while searching for products in the Quartzy Shop, if you clicked on a search result, a side panel on the right side of the screen got displayed with product information. The limited space in this side panel prevented Quartzy from displaying and organizing the product information clearly. Moreover, this experience prevented Quartzy from providing the user any additional information needed to make an ordering decision such as expected delivery dates based on different zip codes, search recommendations, product category paths etc.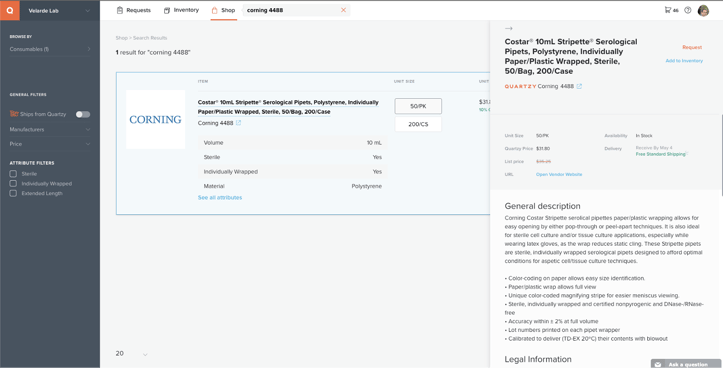 Now, with the newly available user experience, clicking a search result in Quartzy's Shop search results takes the user to a new, dedicated Product Page with more real estate so that you can more easily peruse the product's specification and description.
Unlike the side panel display in the past, the new Product Page also allows users to see an Estimated Arrival date based on the ZIP CODE entered. When available for a product item by a specific vendor, you can also toggle the Shipping method and compare the delivery time between Standard and Overnight shipping speeds as well!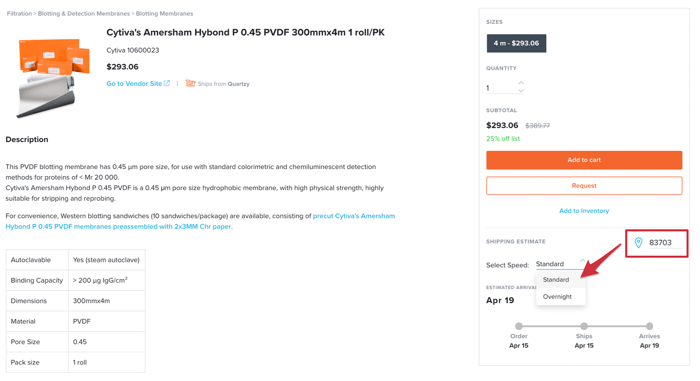 At the top of the Product Page, we are also now providing category breadcrumbs. When you click on any of the sub-category names, you can browse for other similar products within this category.

Also, if any of your lab members have ever requested a product item before, we will display a Previously-Requested banner that links back to the last-requested Request and opens that Request's information details page for this item!

Finally, at the bottom of the page, search query suggestions are present for many items. These would allow you to try related search queries with a single click.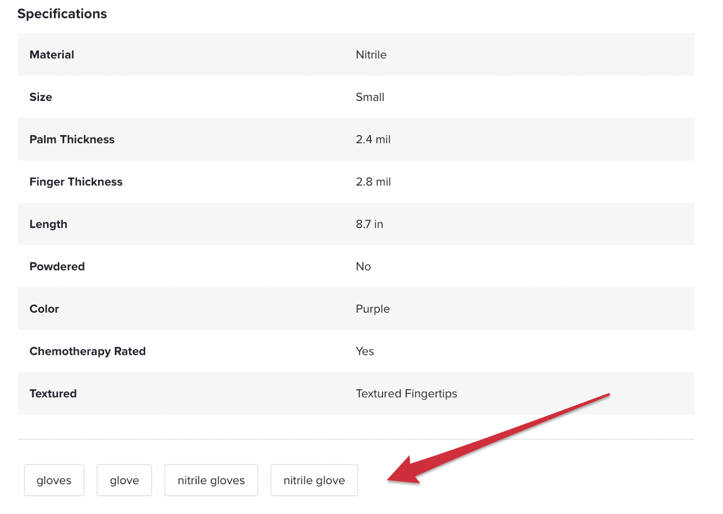 We are also making it easy for you to access these new Product Pages from other parts of Quartzy. For instance, when you click a Product name belonging to the Quartzy Shop within the Add Request Flow or within the Cart, a new Product Page opens in a new tab!

With this first iteration of the Product Page, we are just getting started. In the coming months, we plan to use this extra real estate in Product Pages to provide additional lego blocks such as:
Information sections related to a product's various policies such as cancellation, return, safety information, order minimum etc.

Links to similar alternatives to a product

Personalized product recommendations

and more…