Keeping track of thousands of supplies is standard for R&D labs. Having a reliable search tool to find the supplies you're looking for is a critical part of that process. We recently rolled out improvements to help you find products faster when adding supply requests in Quartzy. Now, we're expanding this key improvement to bring you faster, smarter, and more relevant searches throughout the platform. These new lab-specific search capabilities will yield quicker, personalized results to save you time in the lab.
How does it work?
Faster Search:
Each year, we add millions of new products to our catalog from thousands of manufacturers. While it's great to have lots of options, more products tend to slow search speeds. Common items like ethanol or pipette can yield thousands of search results, taking several seconds to load. Using cutting-edge technology, we're happy to announce we increased our search speed by more than 50%. Today, we are able to return search results in less than a second, regardless of size.
Personalized Results:
Using the same technology mentioned above, we're able to better understand what you're looking for and show you the most relevant, personalized matches based on your lab's unique searches. For example, if your lab has a favorite antibody, our personalized matches will show you this item near the top of your results list for quicker access.

When browsing results, you'll now find items with more details prioritized toward the top. This helps ensure you're seeing items with the most relevant matches and the most reliable supporting information, such as purity, unit size, and delivery times.
Intuitive Functionality:
Our new, intuitive search means understanding human errors, such as typos or partially entered text. Now, if you accidentally search for 'Biotum rabbit antibodies' Quartzy will intuitively decipher what you had intended and show you results for 'Biotium rabbit antibodies' and 'Biotium rabbit antibody' . Same goes for unit size; searching for 50 ml tube will yield the same results as searching for 50ml tube. Looking for a chemical? Even if you don't remember the CAS number, we'll still show you relevant chemical results by name.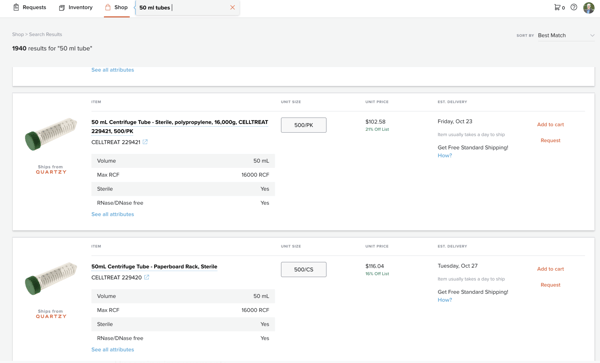 Stay tuned!
Our teams are working hard to bring you more Quartzy improvements. Be on the lookout for additional announcements in the next few months as we roll out an all-in-one search box that pulls results from Shop, Requests, and Inventory, preview it here: