Safety is always critical for lab researchers and scientists. Extra safety precautions should be taken when corrosives are being used. For labs using chemicals and reagents regularly, a Bottle Top Dispenser (BTD) can be a very important piece of safety equipment. Bottle Top Dispensers are mounted on bottles containing reagents. They are often used when preparing samples so they can be dispensed in smaller, more accurate amounts for experiments and studies.
Purchasing the right bottle top dispenser can ensure proper material compatibility with the reagent while mitigating costly damage, leaks, or laboratory mishaps. Many dispensers on the market today are specified for use with either organic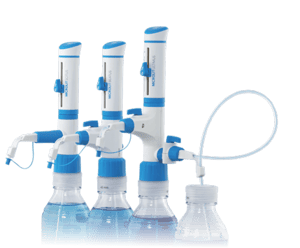 or inorganic chemicals, creating a need for lab managers to purchase two separate dispensers. Microlit's novel Bottle Top Dispensers offer compatibility with both types of chemicals and can be used to dispense alkaline solutions as well. With the need for only one dispenser, this sophisticated technology can reduce overhead equipment costs in the lab.
What distinguishes Microlit Bottle Top Dispensers?
SpringlessValve™ Technology
Microlit's universal Bottle Top Dispensers come standard with a SpringlessValve™,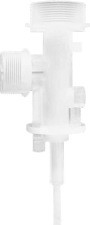 the company's award-winning technology. Most dispensers on the market operate with two valves that contain glass balls and a horizontal outlet valve requiring a spring in order to work. Spring-based dispensers can become easily contaminated and cause the device to get jammed. In addition, the contaminants on the spring can react to the reagent being used. Those dispensers often require regular cleaning and replacement. Microlit Bottle Top Dispensers offer vertical inlet and outlet valves that renders the spring obsolete, creating a longer-lasting, more practical solution for labs.
Durable Piston and O-Ring
Featuring polytetrafluoroethylene (PTFE) Pistons and an ETP O-Ring, Microlit Bottle Top Dispensers are durable and versatile. PTFE is known for being stable due to its high chemical compatibility. This ensures there is no unwanted reaction to the reagent. Smooth movement of the Microlit Bottle Top Dispensers is guaranteed with the self-lubricating PTFE material.
ETP O-Rings provide high levels of chemical resistance. They are made of elastic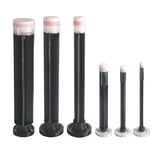 and moves similarly to a wiper, preventing crystallization of solutions between the barrel and the piston. It is a desirable material that deters any jamming that may otherwise occur.
Anti-Corrosion Volume Knob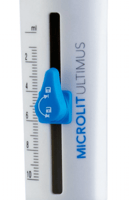 Polyetheretherket one, or PEEK, is a very stable chemical structure that is highly compatible with chemicals and resists wear and tear. Microlit Bottle Top Dispensers feature Volume Adjustment Knobs made from PEEK for long-term durability. Since use of corrosive chemicals is prevalent in many labs, it's important to note the added benefit of PEEK's corrosion-resistance.
High-Performance Valve Ball and Seat
With its high chemical compatibility and non-reactivity, ceramic makes an excellent choice for the valve ball and seat of Microlit Bottle Top Dispensers. Additionally, ceramic is much denser than the commonly used glass found in other dispensers. This higher density improves overall valve system performance when it opens and closes.
---
Microlit is disrupting the market with their innovative Bottle Top Dispensers. Now, there's no need to buy separate dispensers for different reagents - making your lab more efficient while saving you money. Click here to view their chemical compatibility chart and be sure to check out Microlit's Bottle Top Dispensers in the Quartzy Shop today!