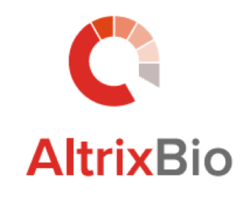 Just outside of Cambridge, MA, Shardool Jain starts his work day. Jain is Director of R&D at AltrixBio, an early-stage startup developing an oral medication to treat type 2 diabetes. The company is part of the Nest.Bio incubator program through MassBio. Like many incubators, benefits of the program include shared equipment and fewer up-front costs for new labs. "Savings add up over time. Money saved can go back into our experiments," explains Jain. Using Quartzy's Equivalent Match feature is another way AltrixBio is keeping costs down and saving even more
When you request or approve an item in Quartzy, you will often see our friendly Effortless Quote pop up, alerting you that better pricing may be available for the exact item you are seeking: Same manufacturer, same part number. When an exact match is not available, we may offer you an equivalent alternative. Jain touts the feature as "a really great tool. It allows us to purchase high quality products that don't impact the integrity of our work."
Keep reading to learn what an Equivalent Match is, who makes the matches, and how they will benefit your lab!
What is an Equivalent Match?
An Equivalent Match is a scientifically vetted alternative. Similar to comparing name brand pharmaceuticals with generics, an Equivalent Match product offers the same functionality and results as their pricier counterparts. Our team of life science experts have vetted each match to ensure that your process can continue using the specified alternative. Check out this side-by-side comparison to see how matches are made: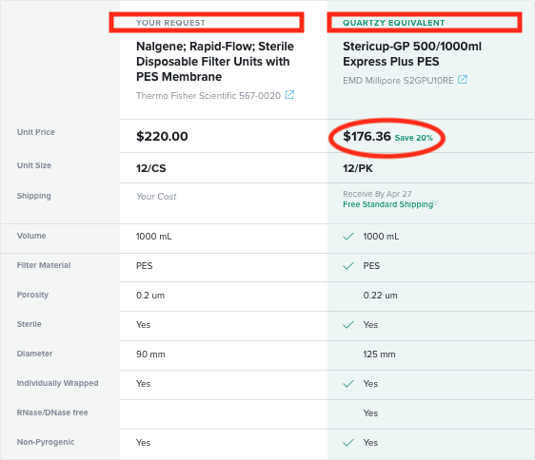 Who makes the Equivalent Matches?
Equivalent Matches are individually analyzed and made by our incredibly methodical Life Science Product Team. These dedicated folks have decades of cumulative lab experience, so you can be confident that we are only offering you the best products for your lab. We understand that all pipet tips, media, chemicals, antibodies, and tissue culture dishes aren't always interchangeable with other brands which is why we meticulously screen each match you see. We will only send quotes for items we would trust enough to use in our own labs. In the unlikely event you are unsatisfied with your Equivalent Match, we encourage you to take advantage of The Quartzy Guarantee.
What are the benefits of using an Equivalent Match?
If you like saving your lab money, you've come to the right place. Equivalent Matches can often provide significant savings, allowing you to reinvest that money back into your research just like AltrixBio. They have saved 30% by taking advantage of the equivalents, without compromising on quality.
If an item you need is backordered, you may be able to get an available equivalent item even sooner. With fulfillment centers on the west and east coasts, Quartzy has you covered with fast shipping to avoid research delays!
How does it work?
When you request or approve an item, look for the green symbol indicating an Equivalent Match is available. Click on Compare Specs' or 'Ask a Scientist' to learn more about the offered match! Click here to read more on sample matches and spec details.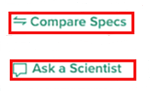 With our Quartzy Guarantee and the trusted reliability of our skilled team of scientists, it's understandable why Shardool and his team rely on Equivalent Matches to save time and money, and keep research moving forward.